Post by Solarius on Oct 2, 2009 19:13:19 GMT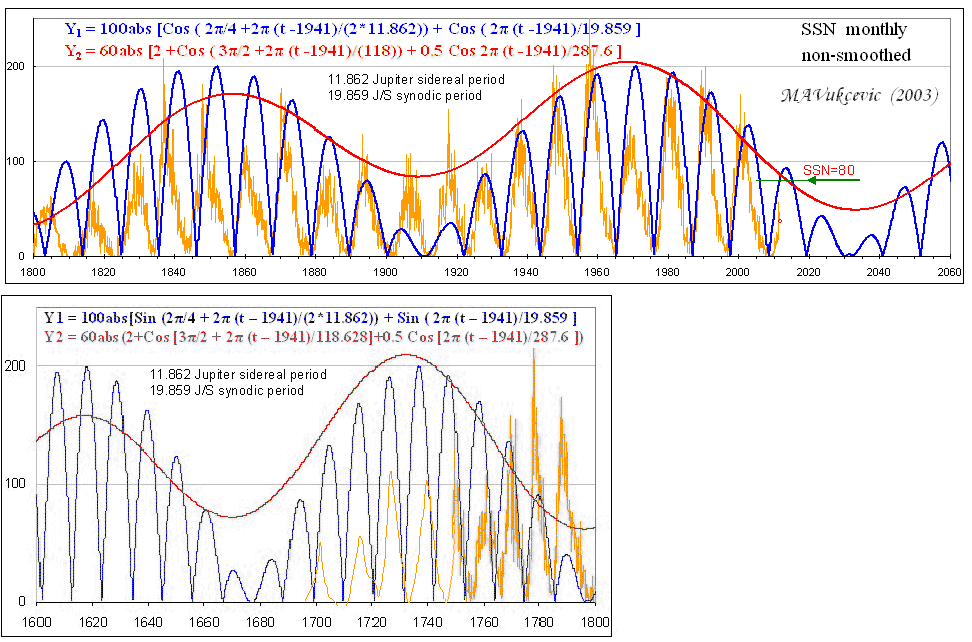 www.vukcevic.co.uk
link solar current
Diagram explanation
The purpose of the graph is to demonstrate a possible link between solar periodic activity and orbital properties of the major planets i.e. Jupiter and Saturn. This is I believe achieved via a feedback as a result of energy exchange between heliospheric current and planetary magnetospheres (see
www.vukcevic.co.uk
solar current link). In past numerous attempts were made to explain the effect by simply attributing it to the gravitational forces alone, and a small minority still believes it to be the case.
The amount of energy extracted out from the heliospheric current by a particular magnetosphere may not vary greatly along its orbital path, except in the case when two planets line up producing 'magnetospheric eclipse'. In such case heliospheric current will change, hence modulation.
The 'night side' of impacted magnetosphere will also follow path of the current sheet spiral, this means that the 'magnetospheric eclipse' will not happen at exact time of the two planets 'conjunction', and depending on the variable curvature of the spiral (function of the variable speed of propagation of the heliospheric current, etc) the time and intensity of 'magnetospheric eclipse' may vary considerably.
. Despite this being in a direct conflict with the current science I still keep trying to point the obvious.
! Health warning! Approach with extreme caution!
Back to the diagram:
The gray (faint line) is obviously sunspot (SS) record with scale to the left.
• If the Sun is an oscillating system (either synchronized or modulated by an outside factor) than its behavior should be possible to express in simple mathematical terms.
• As in ordinary electric or mechanical oscillating circuits single general equation ( Y ) should cover number of resonant frequency ranges (in this case periods).
• Introducing into the general equation Jupiter and Jupiter-Saturn periods gives the first particular equation ( Y1 ). This is blue line in the diagram. Note of warning: I am here demonstrating periodicity correlation, and by simply choosing as nominal amplitude 100, the equation just happens, in some cases, to coincide with SC maxima (the correlation with the amplitude is not point of the exercise).
• Number of authors in past have suggested that SC beside 11 year period has a number of other much longer ones. Both, oscillating and modulation processes always contain higher harmonics, sub-harmonics, side-band frequencies etc. If a particular combination of J & S periods is introduced in the general equation and plotted against SS record then result is red line, the second particular equation ( Y2 ) which happens to mimic Maunder minimum, further more its zeros point to Dalton minimum, as well as pick out number of occasions when a particular solar cycle was reduced in its amplitude in relation to the neighboring once (this is a property also observed with both mechanical and electronic oscillating circuits).
It is important to state that the null or near null points of the equations are the significant ones, in mathematical terms both components of either equation are nearly equal in value but have opposite signs...
In this diagram, the main current is Alfven's current, while the magnetic loops created by the secondary current are roots of the active sunspots.
Let's consider the main current oscillating between two DC values as a result of being modulated by load from planetary magnetospheres. As the current increases (positive gradient of change) the magnetic field generated by it will also change (note N and S hemispheres will have different polarity). The increasing magnetic field will induce secondary currents, which in turn will create own magnetic loops that energise sunspots. When the main current approaches its maximum, its gradient will fall to zero i.e. no change, no primary magnetic field induction, no secondary currents, no ss magnetic loops. Falling main current (negative gradient of change) will induce magnetic field of opposite polarity, changing direction of the secondary current circuits, and therefore polarity of ss magnetic loops. Rising main current is responsible for magnetic polarity of say even cycles, while falling current would be then for the odd cycles.
see also:http://www.cflhd.gov/agm/geoapplications/SurfaceMethods/94ElectromagneticMethods.htm
Plasma is ionized electrically conductive gas so that it responds strongly to electromagnetic fields. Movement of plasma constitutes electric current. Now compare secondary Alfven's currents to NASA's conveyor belts as in
According to my calculation a new Dalton type minimum could occur within next 20-30 years
This type of minimum could under pressure from rise in interstellar (galactic) magnetic field turn into Maunder type minimum as shown in
In red: equation as presented in
www.vukcevic.co.uk
link solar current (page3) and
xxx.lanl.gov/ftp/astro-ph/papers/0401/0401107.pdf
(page 1). Note that pre 1813 Sin instead Cos function is used
According to Carbon14 data it is more than obvious that solar magnetic activity during Maunder minimum was proceeding as normal while sunspot activity was suppressed to a minimum.
If you look at
www.vukcevic.co.uk/graph1.gif
Maunder function Y2 (curve denoted in red). To the N/S excess graph I have added appropriate fraction of Y2 curve (red blue and read). It is obvious that this line is in synchronism with the change in N/S excess. You will notice that the actual changeover may takeplace some time years later than indicated by Y2 function. Reason for this, I believe is the difference in time of alignment of J/S magnetospheres, which is governed by the variable curvature of the heliospheric current spiral (distance J-S=5AU), while precise astronomical values are used for calculating Y2 curve.
This could be a coincidence, but if it is not than it is of fundamental significance. Additional pre 1950s data now added.
There are two cycles running in parallel. My hypothesis is based on Alfven's current feedback as a result of interaction between heliospheric current and planetary magnetospheres. Return leg of the Alfven's current splits into 2 parts (see
www.vukcevic.co.uk
solar current link) according to the polarity. Each splinter of the current modulates appropriate hemisphere independently.
Here is a fraction of Maunder curve (Y2)
www.vukcevic.co.uk/graph1.gif
plotted against Global temperature chart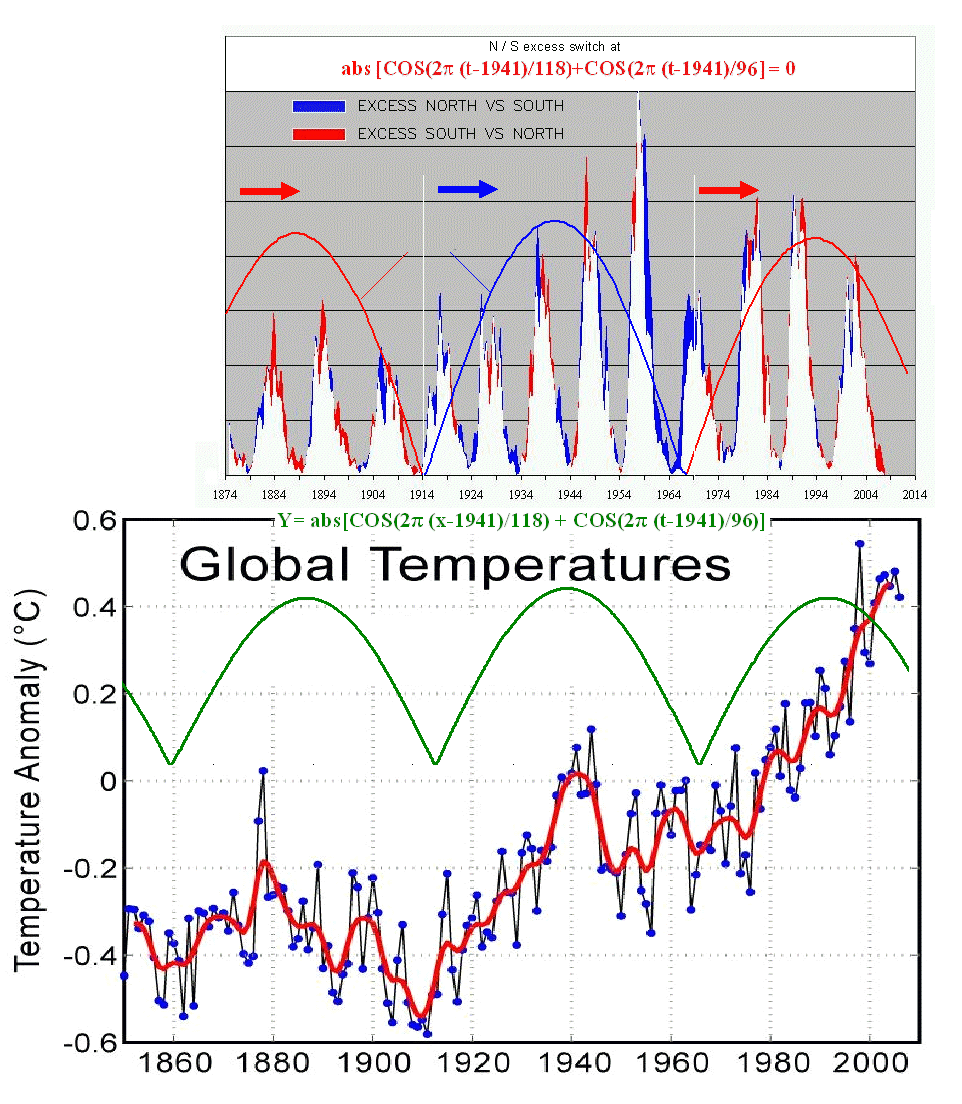 Make of it whatever you wish
400 day sub-cycle
If the above is valid for the Jupiter / Saturn than the Earth's magnetosphere should exert similar effect. The Earth – Jupiter synodic period (398.88 days = 1.092822 years) therefore should be detectable within the familiar 11-year solar cycles.
The graphic representation of the detailed calculations apparently show presence of a sub-cycle, for method used see
www.vukcevic.co.uk
link solar subcycle. These show that there is a presence of major fluctuation with period of about 400 days within most if not for all 23 cycles. The most convincing in this respect is case of SC17.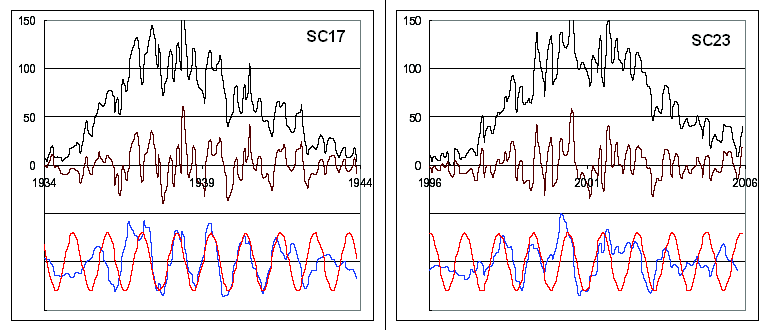 Presence of sunspot sub-cycle is also clearly evident in the solar magnetic field records.